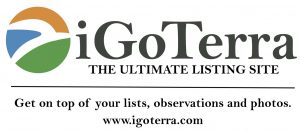 iGoTerra is an organisation that provides globally unique tools and services to record, manage and share wildlife observations, lists, photos and trips.  We are delighted that iGoTerra are for the time being making its Neotropical country checklists available to NBC members free-of-charge through this website.  The bird checklists offer a choice of IOC or Clements taxonomy and there are also checklists available for other species groups including mammals, reptiles, butterflies, etc.  The only thing required to access the checklists is a Basic membership of iGoTerra which is free-of-charge.  If you are already a member of iGoTerra, you will be taken directly to the country page from which you can design the checklist you want (choosing your preferred taxonomy, whether you want subspecies or not, whether you want vagrants and rarities included or not, etc.).  If you are not already an iGoTerra member, you will be redirected automatically to the registration form which only takes a few minutes to complete and you can then go straight to the page of your country of interest.
The following is a list of the countries included.  Simply click on the name and you will be take to the relevant page (via the registration form if you are not already a member):
Falkland Islands/Islas Malvinas
Saint Vincent and the Grenadines
Sint Maarten (Southern part of Saint Martin)
South Georgia and the South Sandwich Islands
Please note NBC's terms relating to the use of our links to external websites: please see our current Website Terms & Conditions, which you can access from the link below.